"Inspiring"
Dr. K. P.
Audience Comments
"1+ on a scale from 1 to 5", "Excellent ideas", "Uplifting", "Encouraging"



Client Comment
"You are helping us do better business"
U. U., Business Unit Leader of an International Healthcare Company
---
International Marketing and Sales Meetings
Dr. Umbach at the Central American Congress of Pharma Marketing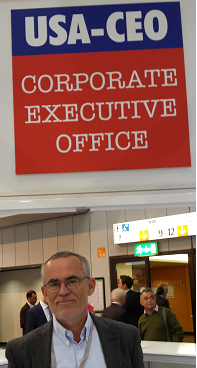 Dr. Umbach at the "Medica" Trade Fair Booth - shortly before the keynote speech to the Global Healthcare Team of the U.S. Commercial Service / U.S. Consulate
Find out more
---
Benefits For You and Your Audience
By listening to this speech, your team members are more likely to
Realize their potential
See the possibilities that lie within them
Win Customers
Convince stakeholders by compelling communication
Grow Revenue
Increase sales and profits by developing a smart strategy
Strengthen Your Company's Market Position
Increase market share by highlighting the value of your products
---
Hallmarks
The speech focuses on
Solutions: Original, sometimes provocative insights
Outcome: Encourage the audience to act and implement
Results: Recommendations for maximizing your impact
---
How
The speech can inspire the audience because it is
Imaginative: Vivid examples and stimulating suggestions
Grounded: Based on extensive industry-specific experience
Personal: Illustrating missed and exploited opportunities
Insightful: A mind-expanding look behind the scenes of the industry
Customized: Tailored to your company's needs
Dynamic: Help making your plans become reality.
---
Comments after Working with Günter
"Your tips and recommendations enriched our work"
"I got a lot of ideas"
"You are helping us do better business"
"I got many insights"
"I am sure I will benefit"
"Excellent ideas"
"Motivating and clear"
"Really useful, entertaining, educational"
"Definitively worth the money"
"Absolutely recommendable"
---
You Receive the Best from Dr. Umbach's Writings
Published Articles and Columns
More than 50 articles in professional journals and newspapers
Flyer: Succeed with Know-How
Making Marketing Work For You
Book "Successfully Marketing Clinical Trial Results: Winning in the Healthcare Business", Gower Publishing, London , also available as a free audio program
Book "Erfolgreich im Pharma-Marketing", Second edition, German-language, Springer Science+Business Media (How to succeed in pharma marketing)
Book "Erfolgreich als Medical Advisor und Medical Science Liaison Manager", German-language, Springer Science+Business Media (How to succeed as a Medical Advisor and Medical Science Liaison Manager)
---
Günter Umbach's Profile
Günter Umbach, M.D. is an international management consultant, advisor and professional speaker who helps companies strengthen their position and achieve better results in the market place.
Dr. Umbach's knowledge as a board-certified physician combined with his experience in industry as medical director, marketing director and global team leader for a billion-euro brand is rare among consultants and speakers.
Corporate clients include more than forty pharmaceutical and medical device companies as well as advertising agencies, clinical research organisations and communication firms.
Günter is a former research fellow at the University of Texas in Houston, a Senior Associate of Management Centre Europe in Brussels, a guest professor for healthcare communications at the University of Bilbao and a lecturer for the Master of Pharmaceutical Medicine at the University of Duisburg-Essen.
Clients benefit from his memberships in the German Speakers Association, the Global Speakers Federation and the Institute of Management Consultants USA.
More than 50 published articles, three business books published in three languages as well as various audio and video programs illustrate how to win customers and meet today's and tomorrow's market challenges.
More information including free ideas and tips for personal and professional success at
www.umbachpartner.com
---
Member of Professional Organizations
---
Preparation and Program Examples
Speakers Bureaus and Engagement Preparation
International Events: Programmes
Media Center
---
Speaker Training
Günter also works as trainer and coach für high-level experts who present at medical and scientific conferences and events. These workshops typically include the following items:
Preparatory Phase: Planning the Presentation
- Review scientific content
- Focus on the essential slides
- How to captivate the audience
- Craft responses to potential questions
- Advice on speaking you can safely ignore
Language and Voice
- Using compelling words and sentences
- Affirmative statements
- Tone of voice
- Rhetorical options
Performance and Platform Skills
- Develop a strong stage presence
- Connecting with audience members
- Enhance impact
- Staying on time
- Manage challenging questions
- Non-verbal communication
The style usually consists of practical exercises with immediate feedback, either as one-to-one-coaching or as group coaching and/or video training.
The language is English or German.
---
Move Your People to Action
Consider working with Günter Umbach: Contact